Greetings from beautiful Poznan, Poland! I am here to participate in the International Viola Forum, hosted by none other than Marcin Murawski. You might remember him from my Kimber Love Fest blog post?
I arrived here this afternoon, and Marcin greeted me at the airport. The weather is simply gorgeous and the temperature is just right! We zipped off to gather more Forum guests, but got stopped by a marathon that was happening down town. Marcin zipped around the city until we were able to approach the train station from the other side, and soon we met Spencer Martin and his pianist collaborator, Nicholas Shaneyfelt, who both teach at Luther College in Iowa. The four of us then continued on, and Marcin gave us a brief tour of the city before he took us to our downtown accommodations. We are staying in the heart of the city, in the Academy's housing. So while the dorm room isn't exactly a five-star hotel, it has everything I need, and is in a spectacular location. There's even free WiFi.
After we dropped off our things, we wandered to the city center, where Marcin gave us some history lessons about Poznan, and finally we sat down to a traditional Polish meal. Nicholas took an amazing photo of our meal, but I don't have that yet. I'll share when I do.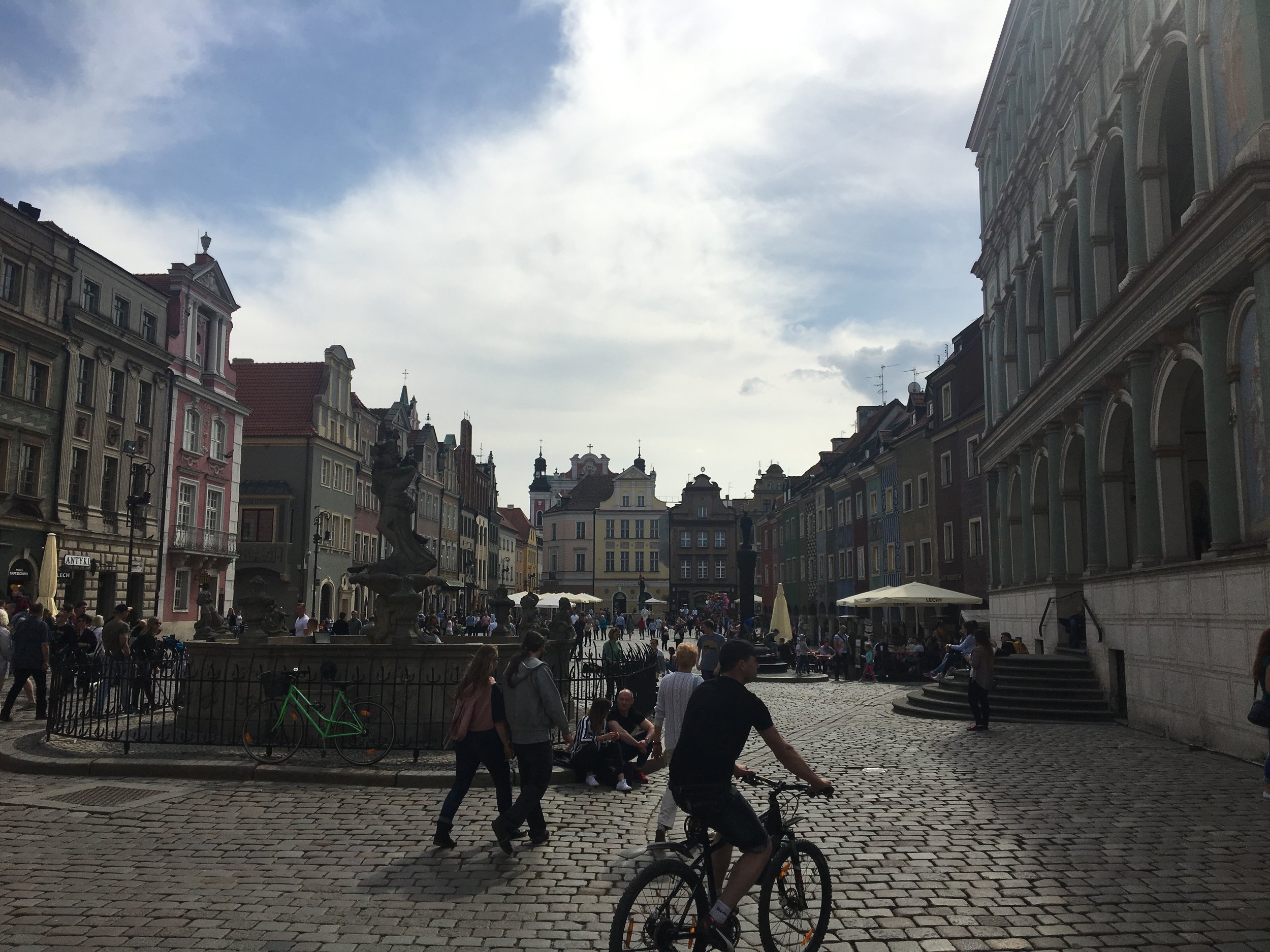 We finished eating hours ago, and I am still completely stuffed. Perhaps I won't event need breakfast tomorrow! ;)
After lunch, I practiced a bunch, and Spencer and I ran a duo that we're performing tomorrow. It's Scott Slapin's Nocturne in Memory of Richard Lane, and it's gorgeous. Tomorrow morning I am going to rehearse with a pianist, because on Tuesday evening she and I will perform Rebecca Clarke's Shorter Pieces for Viola and Piano. Before that though, I also have the pleasure of performing Hindemith's 1937 Solo Sonata on tomorrow night's concert.
I am very happy to be here, and looking forward to performing and collaborating and teaching, but I must admit, it has been difficult to get my pieces ready for performance, given all of the craziness happening at home, what with getting ready to sell my house and move to Georgia and everything. But I feel good about how I practiced this afternoon, and hope I get a good night's sleep that will help me play my best tomorrow.
Until then, happy practicing!