I can hardly believe it's the end of Finals Week here at Ball State. Juries were on Tuesday, and I'm happy to report all of my students passed. This morning after a meeting and some makeup lessons, I cleaned my school office, and left the building! We had a studio lunch/baby shower to which seven students came. Unfortunately not everyone could go, but the eight of us had a nice time, and it was wonderful to give a studio gift to Melissa, who got married last year and in about a month will be a mother, so has decided to take some time off from her degree. Even though she isn't graduating, I still gave her a hand-knitted jellyfish ('cause that's what I do for my graduates! May they remember to always use "jellyfish fingers!!"). Here Melissa and I are with Anthony, who's been with me since my first year at Ball State. The place won't feel the same without him, but I'm really delighted to say he's staying for a one-year Master's as he works towards becoming a medical doctor. It's so incredibly wonderful to have a non-major who is so fully invested in the studio. Melissa isn't leaving the area and she's promised to visit often next year, so even though these two wonderful folks are leaving, they aren't really leaving, and that is really fantastic. :)
Here are some more photos from today at the Maadi Grill, which is delicious! If you live in the area, I highly suggest you check it out. Delicious Egyptian food at a very reasonable price.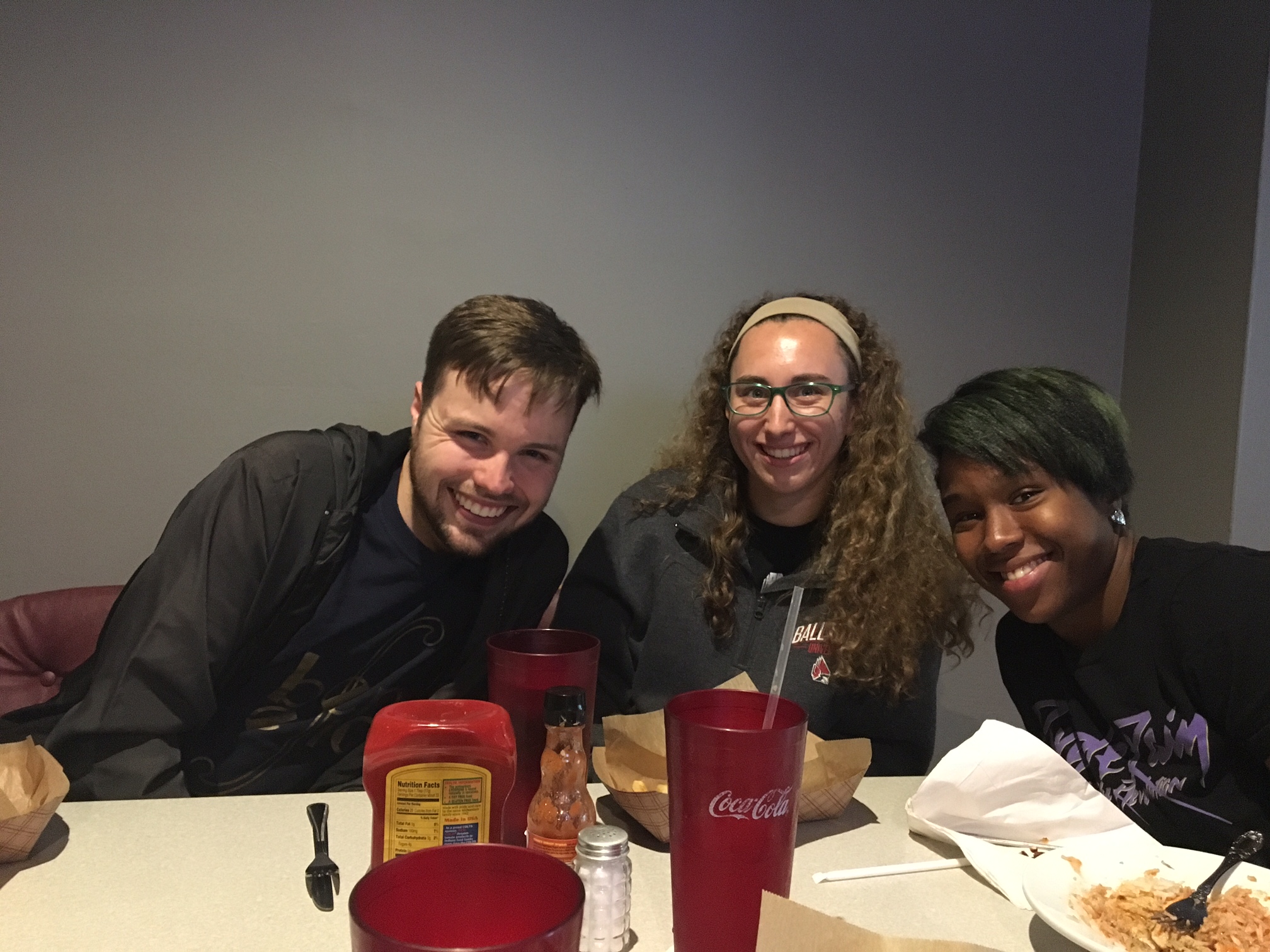 Last weekend Anthony gave a really great non-degree senior recital. He performed the JC Bach/Casadesus Concerto, the first two movements of the Hindemith Op 25, No. 1 Solo Sonata, Bloch's Suite Hebraic, and, with Julie Stuckert, Viola Zombie by Michael Daugherty. He played so well! I was a very proud viola-mama. Here are a few photos, including the amazing spread Anthony's mom brought! She made these ridiculously delicious "cake cookies," the likes of which I've never had before. It's a good thing I don't have the recipe, because they're amazing and I'd eat too many!!
And then last week was the BSUVC final concert! We ended up having to cut one piece because it just wasn't quite there in our dress rehearsal, but other than that, I think the group did really really well. It was very large this semester (ten violas!), and without a conductor it sometimes got muddy. Though there's nothing I love more than the sound of a choir of violas, it did become difficult to differentiate the melody or important line in a piece, since there was simply so much sound, all in the same register, coming from the group! I move people around to different parts on different pieces, so multiple members get opportunities to lead the ensemble, and I think everyone grew a lot in that respect. But I also think ten is too many for only having 50 minute rehearsals once a week. That said, one of the highlights of this semester's concert was a gorgeous arrangement of the Notturno from Mendelssohn's A Midsummer Night's Dream that our very own Julie Stuckert arranged. She arranged it for ten violas, so it was pretty perfect we were able to do it! I'm very impressed by her abilities to arrange and to use notation software!! Here are a few photos from after the concert. I don't remember who started playfully "bowing down" to me, but it was hilarious.
I'm really blessed to have the kind of relationships with my students that I do. I value each and every one of them so very much, and am so glad they don't mind that I'm so darn silly most of the time (though still quite serious about their studies!). In fact, we all seem to get along really well in our epic violistic silliness. :) For me, there have been a few bumps in the road these last few weeks, but looking at these photos makes all of the problems melt away. These people are why I do what I do: To connect with and spread musical knowledge to eager and curious students is just so rewarding! Thank you my Ball State students for making the 2016-2017 academic year fantastic on so very many levels.
Happy practicing!