Well, it's finally time to finish blogging about my trip to Brazil that occurred in October. I've been avoiding writing this final post about the trip, because it's been so nice to daydream about what I'm going to write, and what pictures I'll share, and reliving the warm memories. Silly really, because the longer I wait to write, the more fuzzy the details become! So here's to (finally) not procrastinating...
I was picked up at 4:30 AM on Monday 21 October. The van took me to the hotel, where we picked up Susan Dubois, and then on to Cora's house, where we picked up Daphne Gerling and Hella Frank. Thus filled with tired violists, the van headed to the Uberlandia airport. After checking in, we had some coffee and pao de queijo (Brazilian cheese rolls-- there's truly nothing better when hot out of the oven!), and after a short flight during which I chatted with Hella (we sat together in the front of the plane, while Daphne and Susan were together towards the back), we set foot in the Brasilia airport. Shortly thereafter, we were greeted by Ricardo Freire, the clarinet professor and head of the music department at the UnB, University of Brasilia (if you read Portuguese, check out this site instead).
Ricardo told us we had a little time before events at the University were going to get started, so he drove us downtown. We only had a few minutes, but enough time to get out of the car and see the amazing Cathedral. Built by Oscar Niemeyer in 1970, an iconic structure in Brazil, it was really something else. A modern church, but not at all lacking in architectural, historical or spiritual significance. The entrance to the church is graced by very large, modern statues of the four Evangelists. As you approach the Cathedral, the road takes you down, and you find yourself within a large open space, filled with light. I found it quite powerful.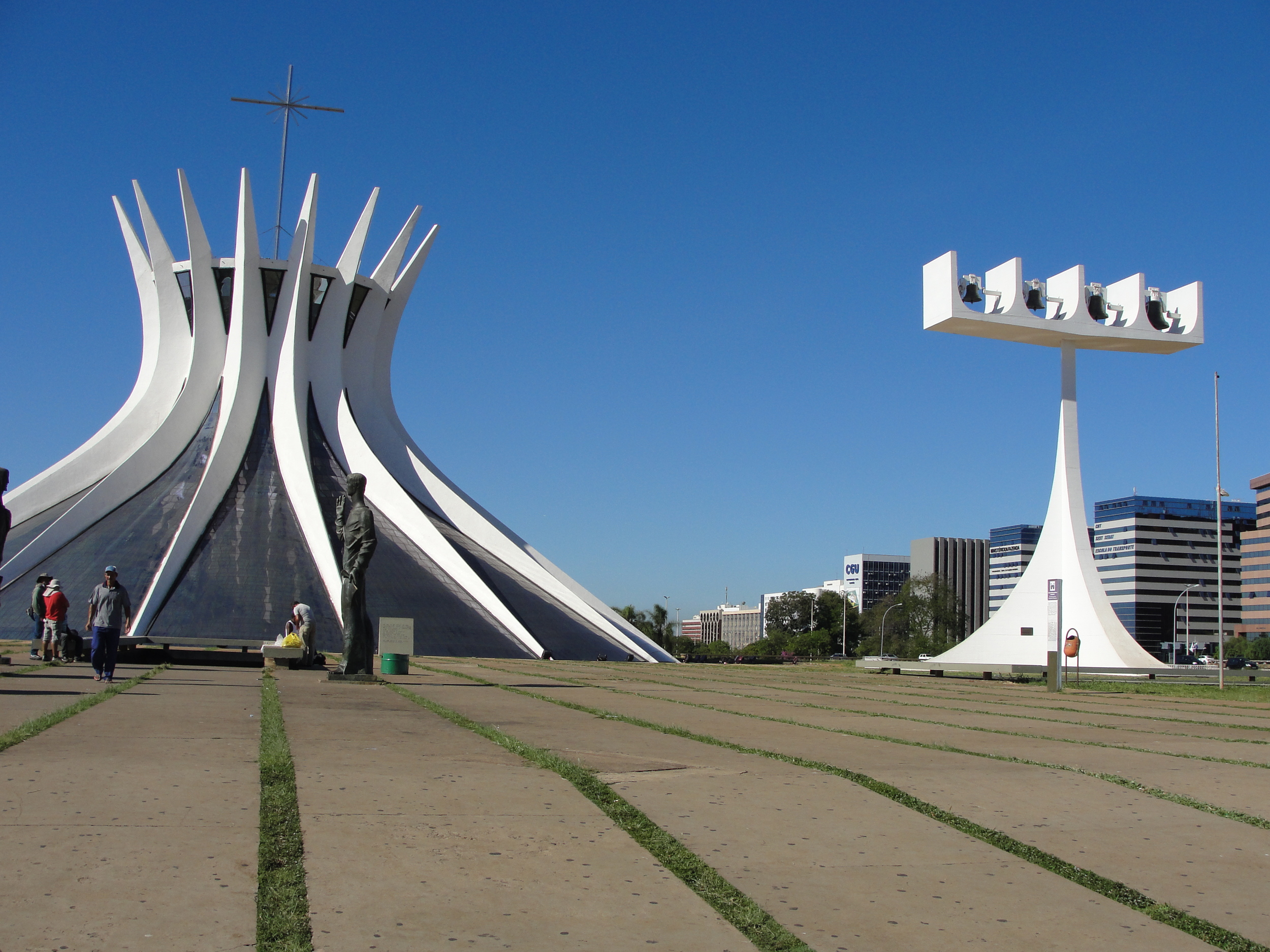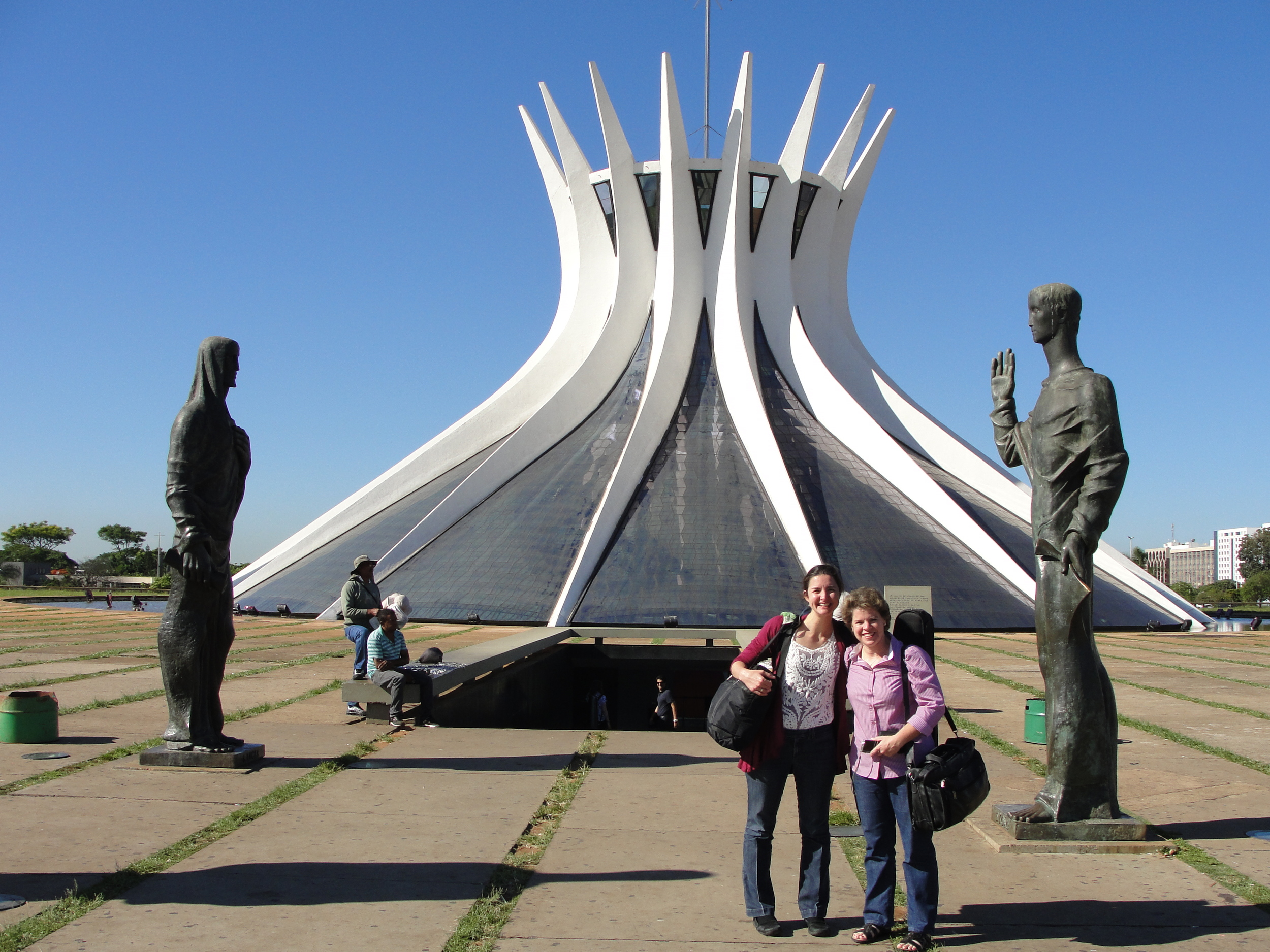 After the quick stop at the Cathedral, Ricardo drove us past the National Congress, which was also designed by Niemeyer (he, in fact, designed a lot of Brasilia-- if you have a little time, you should learn about the city's fascinating history!), and finally on to the University. We had a second breakfast and much-needed cup of coffee, and were off to participate in the Meeting of Violists!
After meeting Glêsse Collet, the viola professor at UnB, the Meeting started with a presentation by two Swedish exchange students, who discussed and demonstrated traditional Swedish fiddling and dancing.
The slideshow they had playing made me nostalgic for Denmark, but it was also funny to see photos of people in the snow and other cold-weather pictures, because it was HOT in Brasilia! Here are some pictures of the amazing flora.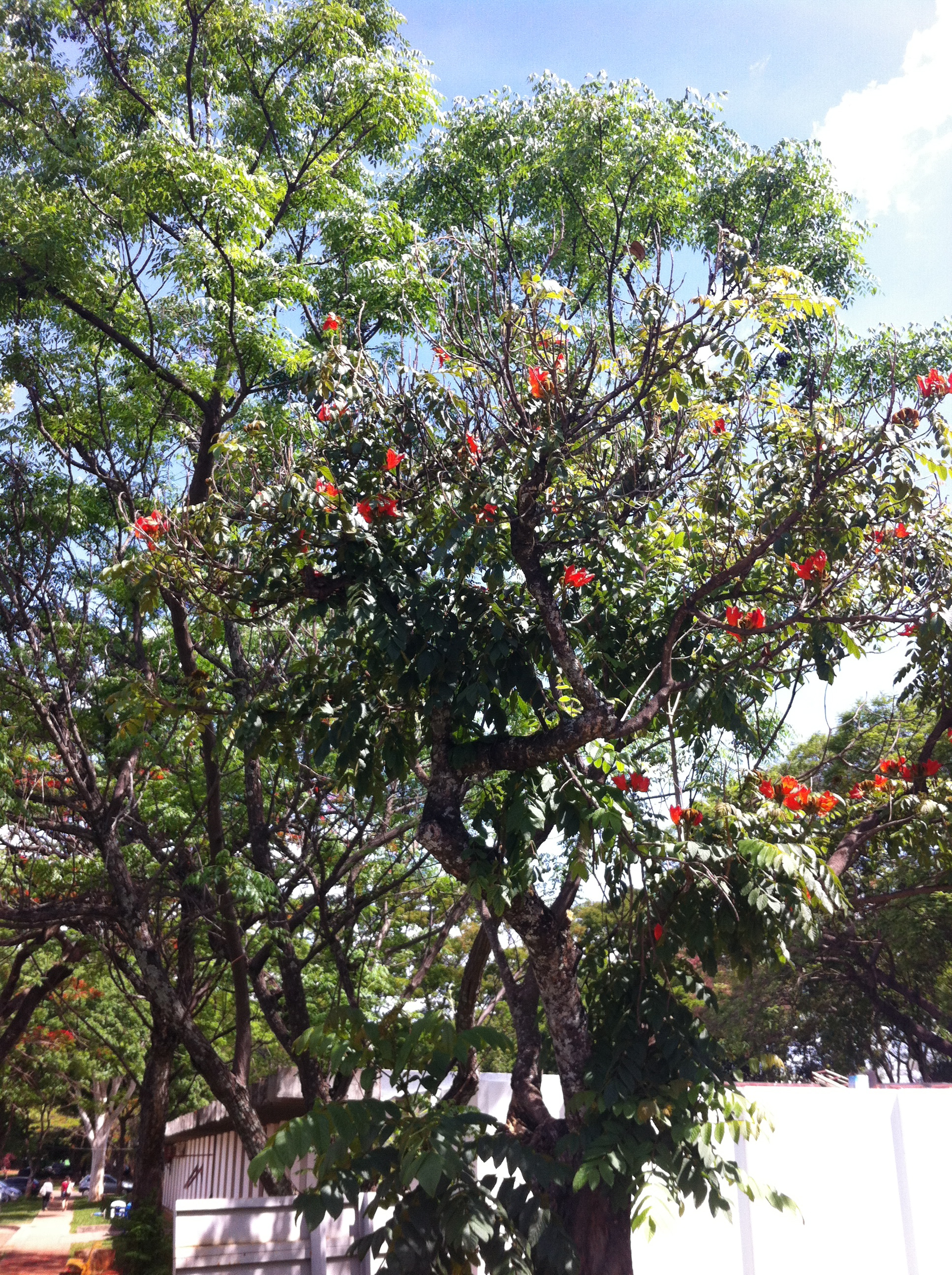 After a presentation by a Brazilian luthier, we had a very nice lunch, and then finally got to the meat of the Meeting: teaching! We started with a group scale class, led by Hella Frank. Most of the students who were participating seemed to have a very good grasp of English, which made life a bit easier for Susan and myself. We discussed the many wonderful aspects of serious scale practice, which can never be underestimated! After this, we broke into individual classes, with Susan and Daphne in one room, and Hella and myself in the other. I have to say, I was really impressed by the students and their level of artistry and maturity. It was a really wonderful experience.
After master classes, everyone met for rehearsal. We were to give a concert at end the Meeting, and had to rehearse! The "big" piece on the program was an incredible transcription of the second movement of the Brahms Sextet in B flat for six violas, by Simon Rowland-Jones. It was a hard rehearsal, probably because the four of us had been up and going since before dawn (!!), but we got a lot done, and finally went to dinner. It was delicious! Ricardo's wife and son joined us towards the end, but we were all very tired, so soon thereafter Ricardo took us to our hotel, where I slept blissfully and like a rock.
The next morning, I had a superb buffet breakfast at the hotel, and soon thereafter Ricardo picked us all up and took us back to the University. Susan and Daphne held a joint masterclass, Hella had one of her own, and I taught a few one-on-one lessons, being helped by Victor, whose English was very very good!
After lunch at a cafeteria-style restaurant downtown (there was an amazing tree with this crazy fruit hanging down-- Daphne and I just couldn't help but pose!), we rehearsed for and performed the final concert. The Brahms went really well, and the other viola ensemble pieces were just fun!
So while we got a lot accomplished, the quick trip to Brasilia was not long enough! It would have been wonderful to get to work with all of the students, and to get to know the teachers and campus, and beautiful Brasilia, a bit better.
Daphne and Susan had a later flight than I, so Glêsse took me to the airport after the final concert, and my Brazilian adventure drew to a close.
When I got home, I was greeted at the airport by my Master's student, Angela, who drove me home. After a quick nap and shower, I was back to work. While it was a shock to be back to work and in a much colder climate, at least I got to see little Tula whom I missed very much while I was gone. :)
Now that the trip is long over, and I've already had all kinds of new adventures, I still find myself reflecting on the Brazil 2013 experience. It was an amazing experience being surrounded by the talented and prolific musicians who also traveled to Uberlandia and Brasilia. Not only are the connections and friends I made important, but the musical and life experiences I gained will stay with me for a long time. I developed my own voice this trip. Since coming back, I've had more confidence in my abilities and the work I do. I'm not sure what it was about this visit, but I came back to Muncie with a renewed sense of purpose and importance in my craft. I know I don't solve crimes or feed starving children, but music matters. It is one of humanity's highest achievements, and I am proud to have a thus-far successful career touching people's hearts and souls, if only for a brief moment while at a music festival (or two) in Brazil.
Happy practicing.